News
FS-Curtis空氣壓縮機為用戶節省了24.4%的能源成本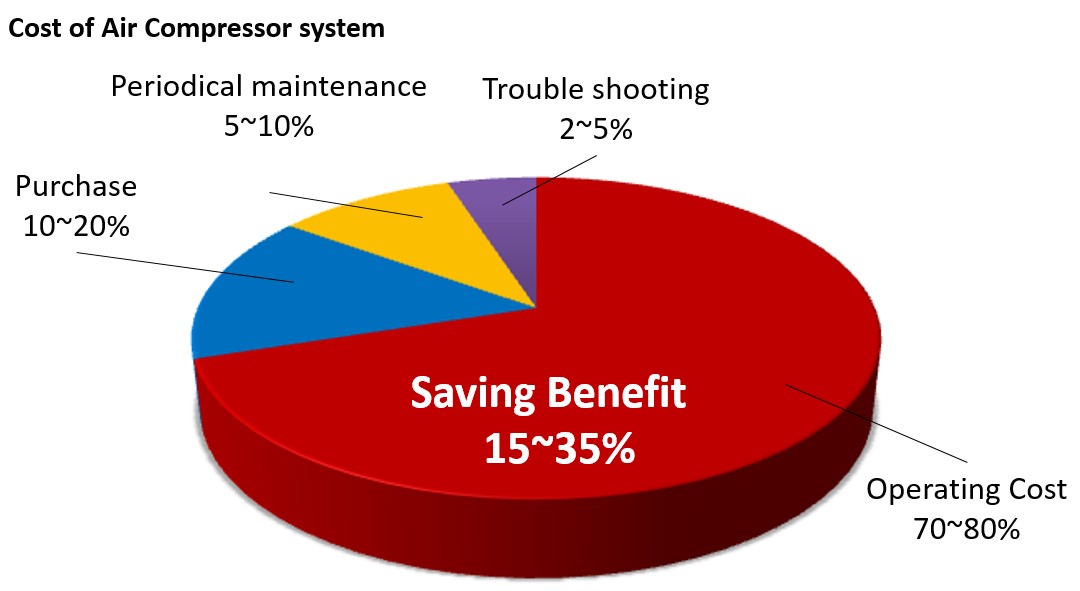 With the help of the US FS-Curtis energy saving team, Philippines bathroom equipment manufacturersare successfully saving their electricity cost up to 24.4% by replacing their piping systems with the FS-Curtis Nx series high efficiency air compressors and interlock controllers.

Industrial machineries driven by motors consume the most power in the industry, and air compressors account for a large part of the national electricity consumption. What most people don't know is that air compressors can save up to 35% energy consumption.


With the use of compressed air system, many can achieveenergy saving by:
Managing air compressors' loading accurately
Buying VSD compressors
Using compressors with high efficiency
Installing multi-units energy saving interlock systems
Detecting pipelines or devices leakage

To manage air compressors' loading accurately, one should conduct a compressed air system survey first to find out the energy usage baseline before defining variable and fixed demand units separately. For the air usage under the baseline, one should use fixed speed air compressor to keep the machine running 24 hours and use the variable speed air compressor to adjust the compressed air usage in order to avoid energywastage on the fixed speed air compressor. The high efficiency air compressor with interlock system can connect multiple compressors of different brands. With automatic loading and unloading control, the interlock controller can adjust the running time from different air compressors to make the running hours even.

According to FS-Curtis' research, the new air compressors can save up to 22% energy consumption compared to air compressors from 15 years ago. The Philippines is one of the countries with high electricity consumption. FS-Curtis believes that manufacturers in thePhilippines can save energy, save the pocket and protect the earth by using FS-Curtis high efficiency air compressors.

FS-Curtis, a brand of Fusheng group, has been focusing on air compressor manufacturing for more than 160 years. The newest Nx series air compressors equipped with IE3 motor are developed for energy saving by FS-Curtis. Other than the Nx series single stage air compressors, FS-Curtis also has two-stage air compressors which are 15% more efficient than the single stage air compressors.

These years, global warming has detonated a global energy saving boom. In the 2015 Paris Agreement, 196 countries, including Canada, agreed to set national targets to cut greenhouse gas emissions en route to preventing the planet from warming up more than two degrees Celsius on average compared with pre-industrial levels. As a member of the global enterprises, FS-Curtis established an energy saving team in 2015 to assist manufacturersin reducing energy usage and also saving the world. Nowadays, FS-Curtis has 43 ISO50001 certificated energy management system auditors and chief auditors to assist customers on their energy saving requirements.

As a pioneer in the energy saving air compressor manufacturing industry, FS-Curtis has set up a booth in the 24th Joint Meeting of Chinese-Philippine & Philippine-Chinese Business Councils and Green Industry Exhibition during December 6-9. The event was held in the Mayuree Ballroom at Dusit Thani Hotel and has invited experts from both thePhilippines and Taiwan to deliver speeches, share experiences and exchange views on such topics as "Green Energy / Energy Saving Industry", "ICTs and E-Commerce Industries", "Agriculture and Food Industry" and "Finance". During this period, Taiwan and the Philippines also signed a new bilateral investment agreement (BIA) on Dec. 7.



Back